About us
We Want To Float An Idea With You.
It's 2010, summertime in Prague. The city is packed with tourists, backpackers and revellers. By day they line up for the sites. By night, they crawl to the pubs.
But one night while overlooking the Vltava River, we called B.S. on pub crawls. Perhaps we were being naive. Maybe it was the booze talking.
People needed a new way to experience the city — and its (in)famous party scene.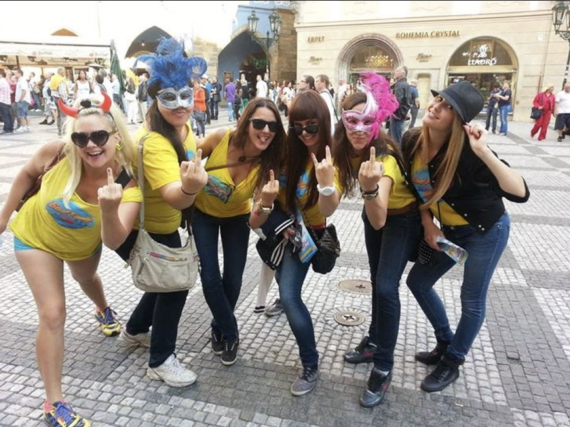 And what better way to experience the 'Golden City' than by boat … floating down the river … surrounded by DJs and party-loving people.
Boat Party Prague is Born.
Fast forward to today, our idea we had over beers is now one of the hottest tickets in Prague.
We've been voted The Best Party in Prague, The Best Club in Prague, The Best Night Life Activity. And more than 200,000 people from every corner of the globe have had the night of their lives on our ships.
So if you're stuck for ideas for your night out in Prague … climb aboard here and experience a party like no other.
Party with us
We are Prague's longest running booze cruise party and pub crawl company. And we host the most kick-ass party that sails through the heart of Prague.
Party Is Your Job. Fun Is Your Career.
Steer your career into a new direction with one of Europe's biggest nightlife's brands.
We are Boat Party Prague. Our dedicated crew hosts over 1,000 party-loving customers every week on our boats and at our pubs and clubs. Now, we're looking for self-starting, goal-orientated, passionate people to help take our brand to the moon.
So, if that's you, then you're in the right place.
The role.
You'll join our fun-loving family as a member of the event promotions and entertainment team.
Your role will be to actively promote Boat Party Prague events to members of the public. It's here you'll tap into your life of the party personality and persuasive sales techniques to actively promote Boat Party Prague events to members of the public.
What's more, we have honed our roles to ensure you have the time, opportunity and salary to develop in one of Europe's top places to work. In short: You will be joining a family with a vision, not just a business with a target.
Here's what it takes to make it.
Without question, you're a real people's person. You love to create relationships, connect with others, and know-how to convert people into Boat Party Prague clients.
The recipe for success in the role is one part teamwork, one part self-starting.
And if you can adapt to a fast-paced environment with constant changes, even better. Because in our industry embracing change leads to increasing growth.
So if you've got your sight set on a rewarding career, come on board with Boat Party Prague. We're taking applications now.
WORK WITH US AS GUIDE OR PROMOTER