With Pub Crawl Prague, you can go from pubs to clubs for just 29€.
By day, Prague is about beautiful bridges, beer gardens, and towering cathedrals. By night, Prague transforms into the party capital of Central Europe. When we say party capital, we mean it. Unique bars, beer-filled pubs, and three-storey clubs make this a one of a kind party city. The only way to experience this party mecca is with Pub Crawl Prague. You'll experience everything this magical city has to offer after dark with people who are here for one thing: fun.
First, we meet up, then we warm up.
Your night begins with one hour of unlimited free drinks at our meet up spot. You'll get to know our guides and hang out with locals and travellers. We have free bar games, prizes and t-shirts to win. And once we're all mates, the crawl begins.
pc15
pc19
pc21
Captura-de-pantalla-2022-03-02-140715
Captura-de-pantalla-2022-03-02-150816
pc8
pc12
pc20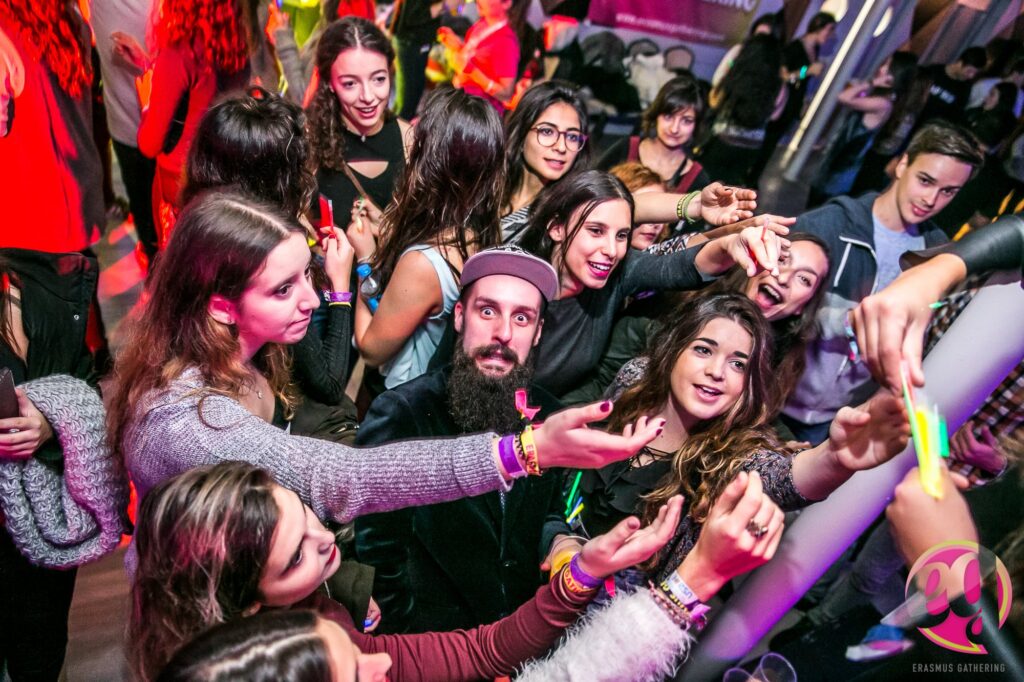 pc22
pc9
pc10
Less walking, more crawling.
We descend on party central headquartered in the district no.1. Our guides will lead you through the winding streets and narrow back alleys where cocktail bars, rowdy pubs and electro lounges stand shoulder to shoulder. (The kind of places you won't find printed in any guidebook.) We'll stop by three drinking spots where you'll be greeted with a smile … and one free welcome shot at each spot. That's the Czech way!
And you won't have to worry about spending a fortune on drinks. Our crew will guide you to the bars and pubs with the widest selection of booze at the prices in the city. So you can kick back with a jug of Becherovka — our most famous national spirit. Or wet your lips with international spirits, beer and rum on tap.
Bring on Prague's Top-Rated Club.
After the bars, we move to the nightclub. But not just any nightclub. You'll get VIP access to Prague's TOP #5 rated clubs. This never ending party finishes after 5 am pumping the hottest tracks from every genre. But if you find you need to chill out, you can grab a drink at one of many bars located in the nightclub.
Doboz_14-2-1024×689-1
pc13
pc16
24254680_2001378940138476_7322715842411245979_o
budapest_pubcrawl_02
87404095_2853258484761903_3248783661503348736_n
Copy-of-IMG_5773
Copy-of-IMG_5858
Copy-of-IMG_5973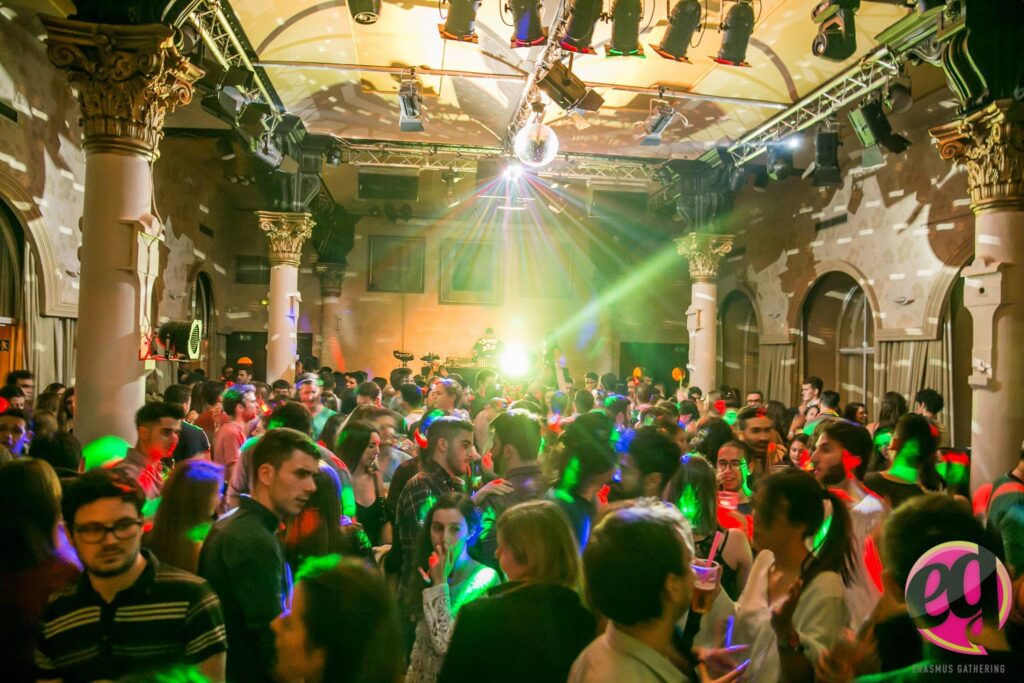 15129508_1825034424439596_4827279143100806195_o
23737705_1997811143828589_916376652455294637_o
24254880_2001381190138251_7256363109247228362_o
35402423_1961932960507563_3818449964523061248_n
All this for just 29€. Really.
In all, Pub Crawl Prague offers something for everyone. For 29€ you won't have to worry about spending too much or which bar you're going to next. We got you covered. The only thing you may need to worry about is the hangover from the free drinks … but that will be a problem for the next day.
Book your Pub Crawl Prague tickets here. Spots fill up fast and weeks in advance.
PUB CRAWL PRAGUE
from
29 €
2.5 Hour of Unlimited Vodka, Gin, Rum shots, Beer, Wine and Soft Drinks
3 Free Welcome Shots (1 per venue)
Entrance To 3 Prague Bars And Clubs
Free Entry To The Hottest Club In Prague
Great Deals On Extra Drinks All Night
Drinking Games, Prizes And T-Shirts To Win
8+ hours of partying
GET TICKETS
Are you a group of 10 or more?
No problem, contact us and we'll work out a good deal.
Payment cards only. No Payment card? No problem, we do bank transfers. Contact us.
Your information is secure and encrypted.
MEETING POINTS
Meeting point
Zephyr Excellent Urban Pub
Michalská 13, Old Town,
110 00, Prague
Meeting point
We've Been Featured In…
Need More Reasons To Join Us?
If you're still not convinced about Prague Boat Party, here are five more…
10
years' running thumping, pumping boat parties!
200K+
More than 200,000+ travellers, revellers and party-goers have partied on our boats.
3600+
departures in a row (making this one of the most sought after things to do in Prague!)
1,050+
5-star TripAdvisor reviews from party loving people.
€19
Packages start from just €18—no where else in Prague can you have this much fun for the price of a few cups of coffee.
Got Questions? Get The Answers Here
Please be sure to read all the Rules before going out to party .
We want everyone to have a good time. Please follow these three simple rules for a night to remember.
No screaming like a mad man.
Enjoy the booze drinks but don't get drunk like a monkey on palm wine.
We have zero tolerance for unruly behavior.
The night kicks off at 20:00 at Zephyr Pub (Michalská 13, Praha 1)
Our boat is docked Dvořákovo nábřezi. Dock 10 Praha 1.
Depending on your ticket purchase, you can meet us at the Zephyr Pub until 22:30 or at the front of the boat at 22:50 to check-in.
Guarantee your spot by booking your ticket here.
Or you can buy in cash at Zephyr Pub (Michalská 13, Praha 1) between 20:00-22:30 or in front of the boat at 22:50.
You must arrive by 22:45 to check your ticket in and board for the 23:00 departure. We do not refund tickets for late arrivals. So plan your route to the boat in advance.
18+. If you are accompanied by a legal guardian, you can join the boat party but not the pre-party or after party.
No card, no worries. You can buy a ticket with cash between 22:00-22:30. Visit Zephyr Pub (Michalská 13, Praha 1). Or you can buy a ticket in front of the boat at 22:50 prior to departure.
Each event caters to 70-500 fun-loving party goers. So it's like a nightclub on the sea.
Our DJs are masters on the decks. They spin anything and everything from R&B, Hip-Hop, House, Electronic, Latin and Reggaeton.
Our bar and dance floor is indoor. You'll stay toasty-warm indoors while our DJ lays down the beats on those crisp winter nights.
Unlike ordinary pub crawls and nightlife companies that visit the same club each night, we do it differently. Our DJs play and promote at some of the hottest clubs all over Prague. So every night we mix it and visit different clubs depending on where the coolest party is going on!
Let's be honest. Guys who ask this spend more time chilling with Netflix instead of Netflix and chill. Our Boat Party Prague promoters canvas the city every day to bring in the sexiest customers who love to party.
Whether you're visiting Prague for a holiday or New Year's Eve getaway, you'll love every minute of our booze cruise parties. For many years now, we've topped many 'Things to do in Prague' and 'Best party in Prague' lists.